The Detweiler Meetinghouse board generally sponsors up to six public events each summer and fall.
Sunday, July 3, 2022 at 2:30 pm     The Fair Wind Celtic Group
CANCELLED DUE TO COVID-19.
The Fair Wind Celtic Quartet sings and plays acoustically, the traditional music of Ireland, Scotland, and England. Comprised of Carole Pines, Ruth Shushan, Mark Pancer and Bob Mino, they treat listeners to traditional songs, jigs, and reels, mined from the rich heritage of Ireland and the British Isles. The Fair Wind promises to transport listeners with fine harmonies and creative arrangements.
CONTENTS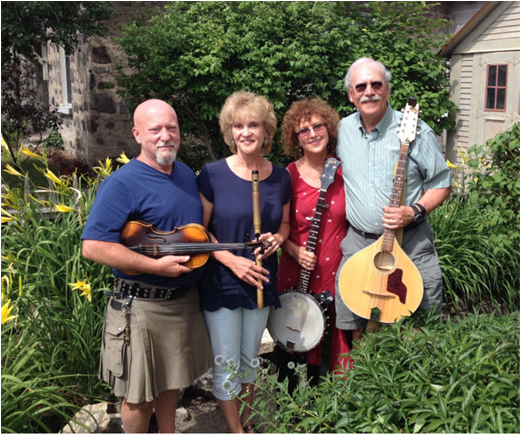 Sunday, September 11, 2022 at 2:30 pm The MacTalla Road Duo
MacTalla Road is Carole Pines (vocals, pennywhistles, piano, guitar) and Bob MacLean (vocals, guitar, mandolin). We are a lively, toe-tapping Celtic/Traditional duo, inspired by the rich folk heritage of Scotland, Ireland, England, and Canada's East Coast. Our performances are fun, energetic, and entertaining, with music, songs, and stories about the music, taking listeners on a journey with trad/folk stylings you don't hear every day. 'MacTalla' is Gaelic for 'echo'.