Date/Time
July 12, 2020 2:30 pm - 4:00 pm
Location
Detweiler Meetinghouse
3445 Roseville Road
Roseville, Ontario,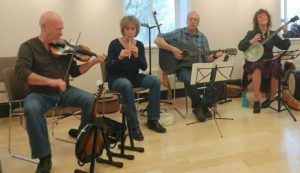 The Fair Wind sings and plays acoustically, the traditional music of England, Ireland and Scotland. Comprised of Carole Pines, Ruth Shushan, Mark Pancer and Bob Mino, they treat listeners to traditional songs, jigs, and reels, mined from the rich heritage of the British Isles and Ireland.
A freewill offering in support of Meetinghouse operations will be held. Everyone welcome.
For more information contact Laurence Martin (519-208-4591)